Our approach is a unique end-to-end management service that provides funders, clients and community organisations access to our innovative technology and new operating model.
This is underpinned by our Wel-Tech Platform, which manages and powers large-scale, Community-Led Programmes, connecting customers/end users/people to essential services from start to finish.
With a focus on innovation and inclusivity, we offer upfront triage, seamless processes, booking integration, reporting and Social Return on Investment (SROI) calculations to measure impact accurately and bring everything under one roof. The service is agnostic regardless of geography, type of welfare need or channel of choice.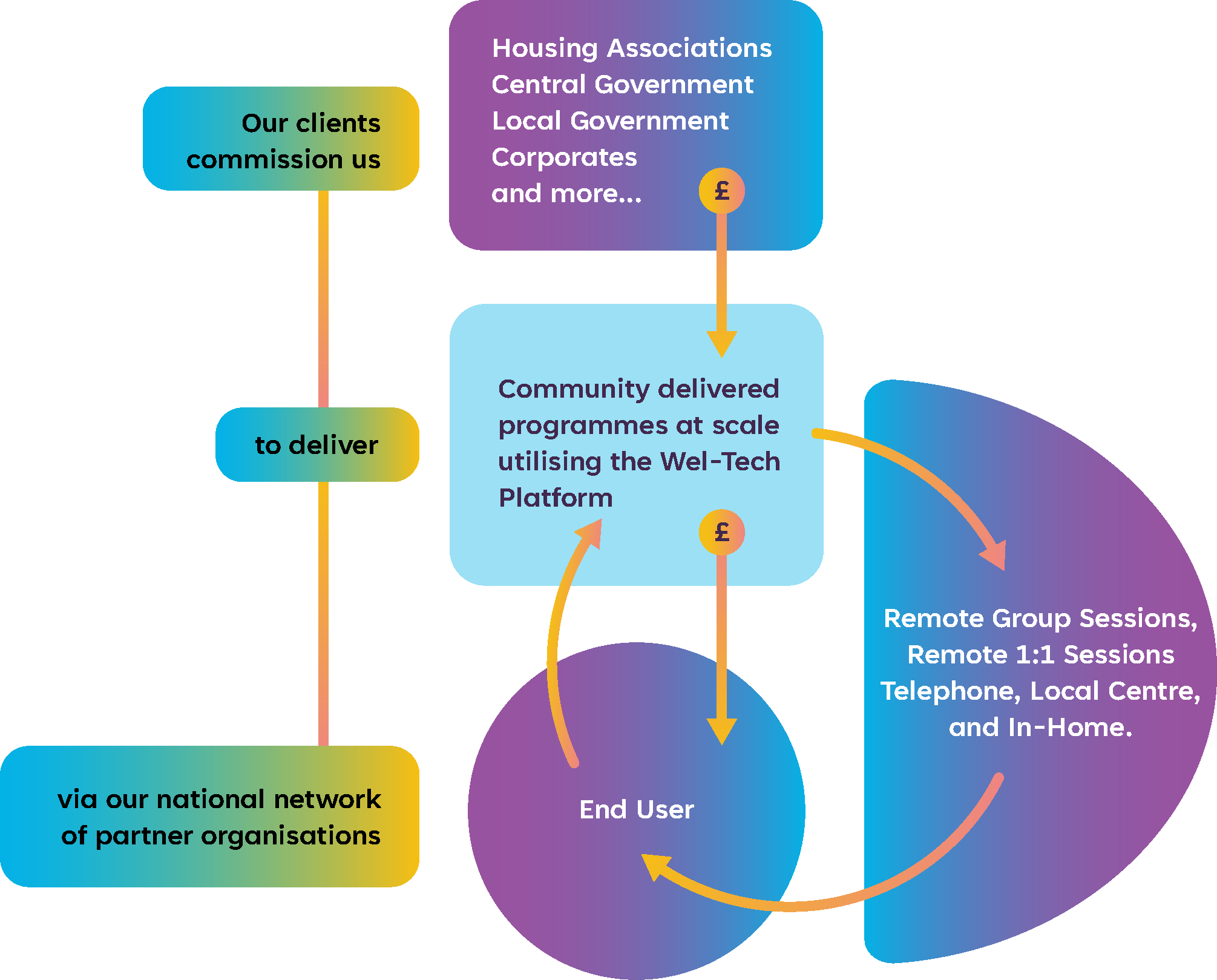 Integrating and streamlining the key processes of delivering Community-Led Programmes, our Wel-Tech Platform enables solutions to some of the sector's hardest challenges:
A single front door for all customers, regardless of need and location.
Higher degree of technology used for traditionally low-tech programmes.
Seamless end-to-end management of your essential programmes (e.g. information, advice and guidance, skills and support).
Triage of your end-users to ensure they are referred in an integrated manner to local delivery partners relevant to their circumstance (not just signposted).
Management of our national and diverse Community Partner Network, in a very fragmented market, who connect to our platform's back-end, adapting to your organisation's needs and delivering your programmes locally.
Real-time and centralised reporting of end-to-end activity, ensuring resources are targeted in the most effective and efficient way, and users are tracked at every stage of their journey.
SROI calculations embedded by default to measure all impact accurately.
Automation and efficiency where needed by software but intertwined with human services: #powered by tech, managed by humans.
Social Return on Investment (SROI) is a methodology of measuring and applying extra-financial value created by environmental, social and economic factors. Our bespoke calculators, embedded in the platform, demonstrate the social value created by your organisation and the impact created for users and within local communities.
We measure SROI at a level that sets us apart from other companies:
Attribution: How much social impact we can really claim.
Duration: How long the impact lasts.
Displacement: Does creating the impact come at the expense of something else?
We are also committed to the BSI's standards on social value (BS8950) as well as Social Value UK methodology standards, which is fully aligned with the Cabinet Office Guide to SROI.
Our Divisions
We Are Group manage large scale, community-led programmes for organisations via our wel-tech platform. Within the end-to-end provision, we focus on the core divisions: Training, Guidance and Advice.