Skills Bootcamps in Digital Marketing
Free 12-week course in Digital Marketing with 3 possible outcomes within the North West, West Midlands and London
A guaranteed job interview
Access to Level 3 Apprenticeship opportunities
Or start your own Business
Who is this course for?
---
Anyone who is aged 19 or above
Recently made unemployed, self-employed, or working part-time and is seeking a new career in Digital Marketing.
Individuals living in the North West, West Midlands or London region.
Individuals who have the right to work in the UK.
How to kickstart your new career?
---
Register your interest today!
Schedule a 10-minute call with us and secure your place on to the course.
Successfully complete the 12-week course.
Apply for new job opportunities, available on WAD Pro, secure a Level 3 Apprenticeship or even start your own business.
Here's what we can provide you
---
1.

Technology, devices and connectivity.
2.

48 live online course sessions over 12 weeks.
3.

Flexible course times every day, with morning, afternoon and evening sessions available.
4.

Job interviews, access to an online apprenticeship or a road map to going freelance.
5.

Experiences tutors and industry experts lead all sessions.
6.

Certificates and access to free courses with Google, Facebook and HubSpot.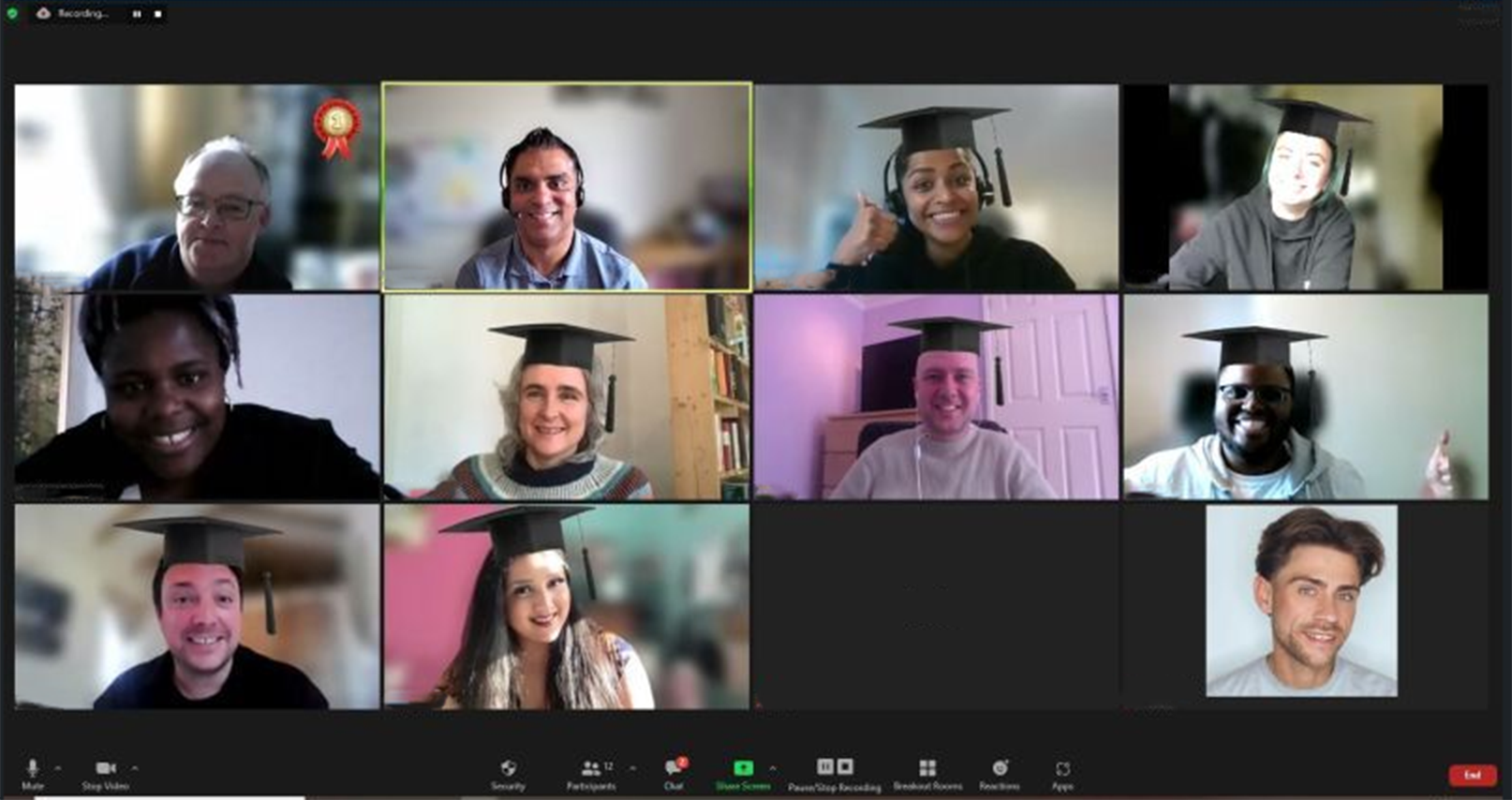 Course Topics
Market Research
Understand customers needs and problems to then develop solutions.
Market Research Theory
Primary Market Research
Secondary Market Research
Tools and Technology
Data driven Market Research
1st party data
3rd party data
Qualitative & Quantitative
Customer Profiles / Personas
Benchmarking
Situational Analysis
Competitor Analysis Intro
Practical Exercises
Social Media
Understand how to plan, test, implement and measure social media campaigns.
Introduction to Social
Objective Setting
History of Social Platforms
Mobile & Social Media
Social Listening
Social Benchmarking
Social Platforms Overview
Setting Objectives
Organic & Paid Social Techniques
Audience Targeting
Social Amplification
Post Timing & Scheduling
Content Formats, Topics & Policies
Social Profiles
• Advanced Targeting Options
• Ad Testing
• Tagging
• Tools & Technology
• Reactive and Proactive
• Budgets & Management
• Refine and Improve Performance
• Reporting
• Practical Exercises
Organic Search
Understand how to plan, design, and implement an Organic Search strategy:
How search engines work
The History of Search
Terminology
Benchmarking performance
Key phrase Market Research
Searcher Profiles
Competitor Analysis
Technical SEO
Intro to SEO Pillars
On-page SEO
Inbound Marketing
SEO Trends
Strategy components
Prioritisation
Tools & Technology
Practical exercises
Paid Search
Understand how to design and implement a paid search strategy.
What is Paid Search
The Paid Search Landscape
Platforms – Google Ads
Paid Search Objectives
Paid Search Terminology
Paid Search Account Structure
Key phrase Market Research
Match Types
Campaign and Ad Group Structure
Ad formats
Shopping
Ad Extensions
Paid Search Quality Score
Impression Share
Landing Pages
Bidding Strategy
Search Query Reports
Re-marketing for Search
Automation to reduce time
Bid management software – Intro
Practical Exercises
Analytics
Understand how to implement, test and measure results using analytics packages.
Analytics tools introduction
Tag Managers
Analytics Setup
Admin
Analytics Packages
Google Analytics
Social Analytics
Customer journey
Attribution
Goals & E-commerce
Campaign Tracking
Funnels
Measurement
Reporting
Actionable insights
Practical walkthrough
Practical exercises
Conversion Rate Optimisation
Understand how to plan test and improve conversion rates on a website.
What is conversion optimisation
Benchmarking conversion rates
Analytics tools and reports
Calculating the opportunity of conversion
User data and audience insights
Analyse digital campaigns and visitor engagement
User research and personas
Identify what customers will respond to
Experiment design
Testing tools
Test Plan, Schedule and Timescales
Testing A/B
User Testing
Analysing results
Practical Exercises and Case Studies
Competitor Analysis
Understand how to conduct competitor Analysis:
Understand the battlefield
Identify where the competitors are
Understand how competitors are approaching the business
Can help to identify strategic areas to position yourself for a win
Keep tabs on the competition so you never have to worry about them blindsiding you
– SWOT
– Positioning
– Value Proposition
– 5 Forces
Content Marketing
Understand how to plan and develop a content marketing strategy.
What is content marketing?
What is content marketing strategy
Overview of content types & formats
Overview of content channels
Content Audit
Site structure & hierarchy
Customer journey
Content outreach
Content hooks
Housekeeping
Objectives, Initiatives and KPIs
Business strengths, weaknesses, USPs
Industry Landscape and Competitors
Target audience segmentation and content analysis
Content asset planning
Content promotion planning
Tracking, reporting & analysis
Reviewing existing content
Management buy-in
Resourcing & structure
Data & infrastructure
Practical exercises
Content Strategy – Rich Media
Video
Podcast
Innovations
Practical Exercises
Email Marketing
Email Marketing:
Tools
Automation
Personalisation
Segmentation
Measurement
Display Advertising
Display Advertising:
Formats
Paid
Re-targeting, Prospecting
Programmatic
Trends and Innovations
Understand trends in digital marketing, how it's evolved and what is on the horizon.
Artificial Intelligence
Chatbots
Augmented Reality
Internet of Things
Beacons
Strategy
To take all the learnings from the course and develop into an overall digital marketing strategy.
Objectives
Marketing fundamentals
Marketing Initiatives
KPIs
Forecasting
Customer-Centric
Data-Driven
Iterative – Test, Learn & Refine
Omnichannel
Customer Journey
Measurement
Success
Location Breakdown
1. Lancashire
Accrington

Bacup

Bamber Bridge

Blackburn

Blackpool

Chorley

Clitheroe

Colne

Darwen

Fleetwood

Fulwood

Haslingden

Heysham

Lancaster

Leyland

Lytham St Anne's

Morecambe

Nelson

Ormskirk

Poulton-le-Fylde

Preston

Rawtenstall

Skelmersdale

Thornton-Cleveleys
2. London
Barking and Dagenham

Barnet

Bexley

Brent

Bromley

Camden

City of London

City of Westminster

Croydon

Ealing

Enfield

Greenwich

Hackney

Hammersmith and Fulham

Haringey

Harrow

Havering

Hillingdon

Hounslow

Islington

Kensignton and Chelsea

Kingston

Lambeth

Lewisham

Merton

Newham

Redbridge

Richmond

Southwark

Sutton

Tower Hamlets

Waltham Forest

Wandsworth
3. North West
Barrow in Furness

Blackburn with Darwen

Blackpool

Bolton

Burnley

Carlisle

Cheshire

Chester

Cumbria

Greater Manchester

Halton

Lancashire

Lancaster

Liverpool
Manchester

Merseyside

Preston

Runcorn

Warrington
4. West Midlands
Birmingham
Coventry
Dudley
Hereford
Rugby

Sandwell

Shrewsbury

Solihull

Stafford

Stoke

Telford

Warwickshire

Walsall
Wolverhampton
Worcester
View Course Dates & Times
1. Lancashire
Lancashire- Skills Bootcamps in Digital Marketing course dates:
September 2022
2. London
London - Skills Bootcamps in Digital Marketing course dates:
September 2022
3. North West
North West - Skills Bootcamps in Digital Marketing course dates:
September 2022
4. West Midlands
West Midlands - Skills Bootcamps in Digital Marketing course dates:
September 2022
Past Learner Feedback
---
See what our learners are saying about us and our course.
FAQs
---
1. How long is the course?
Our Skills Bootcamps in Digital Marketing will run for a total of 12 weeks, broken down into 48 live sessions which will run for 4 days a week, 3 hours per day. This is the equivalent of completing 144 hours. Extra support is also offered, giving you the opportunity to schedule 1-2-1 sessions with your trainer to support you with any areas of concern.
2. Do I have to pay for the course, and if so, how much?
No cost! Our Skills Bootcamps in Digital Marketing are completely free. Funded by the Department for Education (DfE), our courses are a part of the larger Government project 'Plans for Jobs' so the intention is to help and support you get back into or begin work.
3. I am already employed; can I still apply?
Yes, no problem. If you are already in employment and looking to enhance your prospects, we would still welcome your application with the backing of your current employer. They would need to pay £747 to contribute to the cost of the course and this would need to paid upfront before joining.
4. Why is this course only available in certain regions?
Our courses are currently only available in the North West, West Midlands, London and Lancashire UK regions - this is as the project is funded by the Department for Education (DfE) so as part of our bid to deliver these Bootcamps, we must ensure all our onboard employers are local to the regions where the courses are being offered.
We currently hold strong relationships with employers in the Northwest, West Midlands, London and Lancashire regions. However, we are looking to widen our horizons.
5. Is this something I can do in my own time?
Our Skills Bootcamps in Digital Marketing offer flexibility as well as convenience. During the sign-up process, we will discuss your commitments and help you decide what works best for you. We offer three different session times, one in the morning (09:30 12:30), one in the afternoon (13:30 – 16:30), and one in the evening (17:30 -20:30). This will run over a four-day week from Monday to Thursday and the class time you select will then be the session you attend during the duration of the 12-weeks; ensuring your Digital Marketing session is convenient and consistent for you.
6. What will I learn?
Taught by our specialist tutors who are industry experts in their field, you will develop your knowledge in 12 different areas of Digital Marketing - equipping you with the most up-to-date expert industry knowledge to boost your CV and become a confident Digital Marketing employee. Currently ranging from Market Research, and Competitor Analysis to Content Marketing, and Trends and Innovation, we will regularly be reviewing and updating our content to ensure the skills provided match the desirable requirements employers are looking for in this dynamic market.
7. How will we be taught?
Our Skills Bootcamps in Digital Marketing course will be delivered remotely, so you will be able to attend each session from the comfort of your own home. You will be expected to engage with the materials and assignments provided during this 12 – week course so we ask that you have your camera on for each and every session.
8. What happens once I finish the course?
After completing our 12-week course successfully, you will be approached by our progression team to support you in securing interviews and a potential job role within the Digital Marketing industry. If you are self-employed, we will work with you to ensure you can sufficiently evidence the benefit the Bootcamp has had to your career. You will also be awarded a certificate as proof of your hard work and dedication to develop and enhance your digital marketing skills – boosting your CV and LinkedIn profiles to potential employers.
We will also reach out to you at times to check in on your progression to make sure you are getting the best out of our Skills Bootcamps in Digital marketing course.
9. How will the course benefit me?
Our Skills Bootcamps in Digital Marketing will provide you with the opportunity to complete additional accredited training such as Google fundamentals, Meta Blueprint (formally Facebook) and HubSpot. These will serve to further differentiate you from others seeking employment in Digital Marketing. They will strengthen your industry knowledge, enhance the prospect of securing interviews, and help you progress to the next stage of your career. You will also be awarded a certificate as proof of your hard work and dedication, enabling you to boost your CV and show your achievements to potential employers.
10. Is this course legitimate?
Funded by the Department for Education, the Skills Bootcamps in Digital Marketing is highly recognised by employers and Apprenticeship schemes. It is part of the larger Government project 'Plans for Jobs', which aims to address the skills gap shortage by driving sector-specific skills and fast-tracking individuals to interviews with local employers. Allowing you to secure the equivalent of a Level 3 course achievement, this Digital Marketing course will equip you with the employability skills needed to thrive in today's competitive Digital Marketing industry.
11. Why do I need to provide my National Insurance Number?
As the Skills Bootcamps in Digital Marketing is funded by the Department for Education, it is important we follow their set eligibility criteria. One of the criteriums is having the right to work in the UK; therefore, we ask for this to be provided to ensure we can progress with your application. Do not worry if you do not have this to hand, as long as you have proof of a valid National Insurance number you will be considered eligible for the course.
Sign up today to a Digital Marketing course
Or complete our form below